Hello sandwich with apple cole slaw (sans mayonnaise)!!
I'm actually not a mayo hater, I just kind of dislike it in my cole slaw.
A few weeks ago the super nice people from SweeTango sent me an email and asked me if I'd like to try their apples. Of course I enthusiastically said yes because it was sweltering at the time and I was yearning for fall to arrive.
I'm not exaggerating when I tell you that SweeTangos are some of the best apples I've ever had–they're SO crispy, perfectly sweet and slightly acidic. As I bit into the apple and walked around my apartment, Amelia started jumping after me like a lunatic because she's obsessed with foods that make noise. I don't understand this, but if I'm eating crunchy chips she will not leave me alone. It's something about the noise. So, basically my point is that these apples are crazy crispy, in a good way, of course.
While I love to bake with apples, these are better suited to be paired with something, maybe cheese, maybe in a salad or simply enjoyed on their own. I'd categorize them as fancy-ass apples. Kind of high-end, if you will. If you live in LA, you can find them at Gelson's grocery store. If you're located elsewhere, no biggie, they're sold nationwide. I'd like to discuss this sandwich, please.
This cole slaw is all about acidity and texture. The apples are crunchy, the Brussels are a little crunchy and the acidity level is fun. Not too tart so you pucker, but enough so if you're eating it atop sweet bbq you have some contrast. My favorite ingredient is the ground ginger. It's so unexpected and subtle but makes something that's super simple interesting.
Just a heads up, they have a contest going on right now where you could win a trip for 2 to Los Angeles, California to have dinner at one of my favorite restaurants, Animal. If you win, you'll absolutely love it. The food is always killer and the room is fun.
I'll be back tomorrow with an apple giveaway because who doesn't love apples, especially at this time of the year.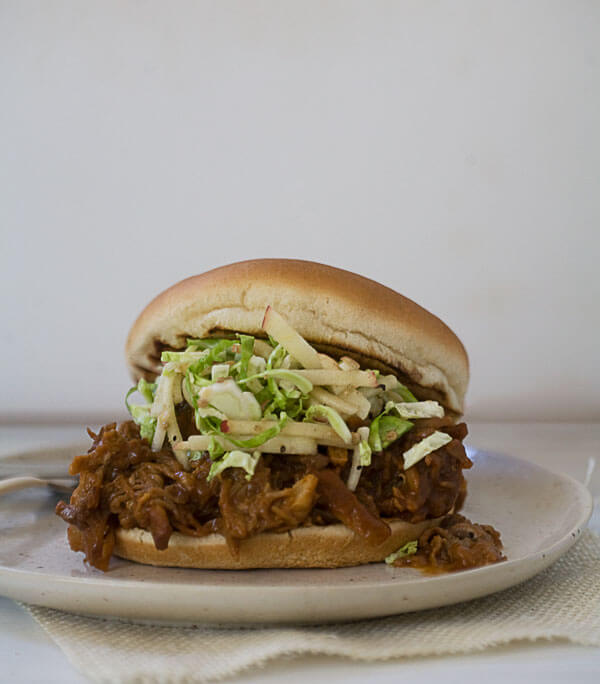 Print Recipe
Apple and Brussels Sprout Cole Slaw
Ingredients
8

Brussels sprouts

outer leaves removed and thinly sliced

1

SweeTango apple

peeled, cored and julienned

1 1/2

tablespoons

apple cider vinegar

1

tablespoon

olive oil

1

tablespoon

whole grain mustard

Salt

Pepper

Pinch

of ground ginger
Instructions
To a medium bowl, add the Brussels sprouts and apple; gently toss together. In a small bowl, combine the apple cider vinegar, olive oil, mustard, a few pinches of salt and pepper and a pinch of ground ginger. Whisk together using a fork. Add to the apple and Brussels mixture and toss, making sure it's evenly coated. Give it a taste and adjust the salt and pepper accordingly. Serve as a side or on top of pulled pork sandwiches.
(This post is sponsored by SweeTango, but all opinions are my own. I actually do think the apples are delicious. Thank you for supporting the sponsors that keep A Cozy Kitchen super cozy.)