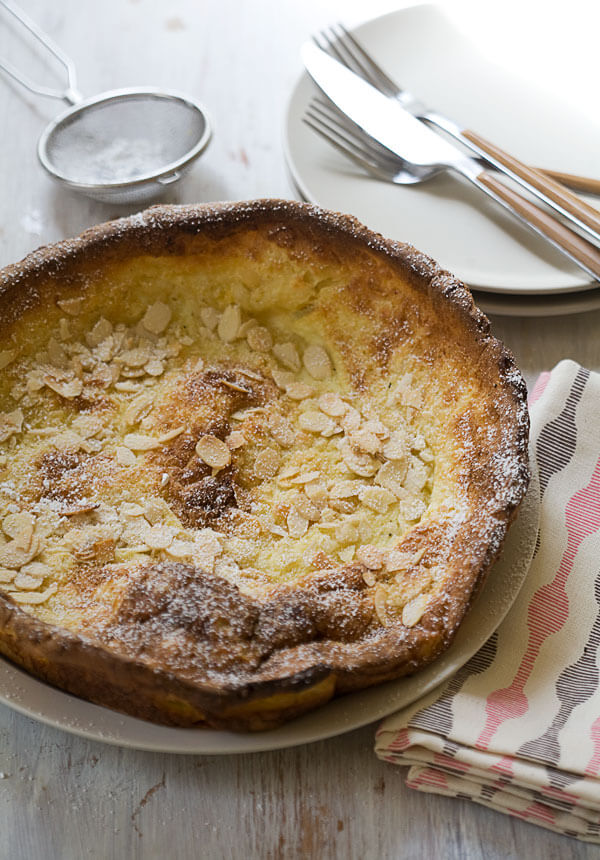 Look at this fine specimen! Last week I had a weird pancake craving. I don't think it should be much of a surprise to anyone, but I have no interest in eating pancakes. I still love them. I adore them, actually. If you come to my house bearing a cappucino in your hand and you ask me to make you a stack, I'll gladly do it. I actually love making them. I don't know a gazillion recipes by heart, but I can make pancakes from memory. But, I've had my fill with them…or so I thought. Last week all I wanted was a stack of pancakes. Like a big fluffy stack. With warm syrup and lots of butter. But, I've been baking a lot and ran out of baking powder and baking soda, so I made a dutch baby instead. No leavening! Just eggs.
A little almond extract and slivered almonds made for a fun breakfast that I ate all by myself. Amelia stared at me the entire time. It was dog torture, but for her own good.
Fun fact about Dutch babies: they're incredible fickle. If you add anything heavy to the batter like nuts or bacon or jam, the Dutch baby won't rise. I found this out when writing the book. You must add any sort of topping right before you pull it out of the oven. They're moody, delicious little things. They have an attitude.
There is no almond Dutch baby in the book, but there's one on PBS Food today! I hope you bookmark this for Saturday morning. It's a winner, for sure.