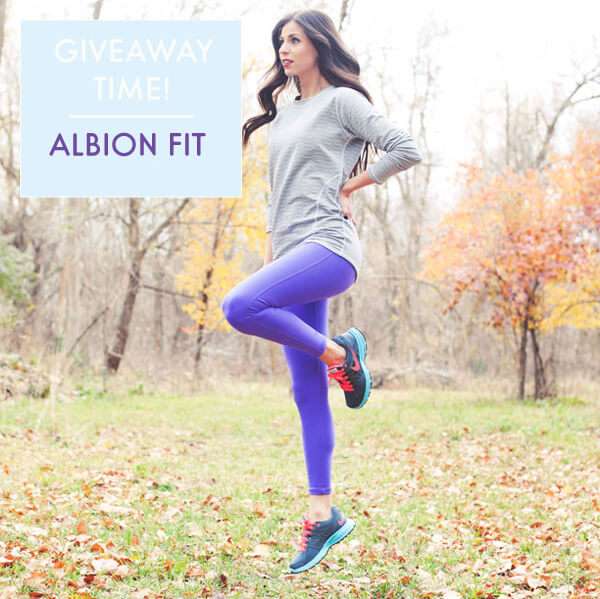 I'm probably going to sound like a total girl right now but whatever. Here it goes, when I actually have nice workout clothes, I'm more encouraged to workout. I know that may sound absurd, but I enjoy the feeling of being dressed. And this same idea applies to my day-to-day life, too. I work outside of my apartment but I like to get up and get ready for the day. No pajamas. It makes me feel sloppy and gross. Not to say that I wear high heels in my house or anything absurd like that but, you know, just casual stuff like jeans and a t-shirt with my hair brushed with a little make-up on. It makes me feel clean and ready for the day.
Same motto goes with working out. I dig cute and comfortable workout clothes.
Today's giveaway is for just that! Albion Fit is an activewear company specializing in comfortable, flattering and most importantly, functional workout gear.
Albion Fit would like to give one of you a $150 gift card to buy an assortment of workout clothes (or bathing suites) of your choice.
Here's how to enter:
1. Go to the Albion site and take a glance around.
2. Leave a comment below telling me your favorite Albion Fit item(s).
3. For a bonus entry, Pin an item from Albion and leave the Pinterest link in the comments below.
One winner will be chosen at random on Friday, March 14th, 2014 at noon PST. This giveaway is open to US/Canadian readers.
*You're welcome to use the discount code cozykitchen15 to enjoy 15% off on your purchase from now until March 14h.
——————–
[This giveaway is now closed!]
The winner is MaryB. Thanks to everyone who entered! xo