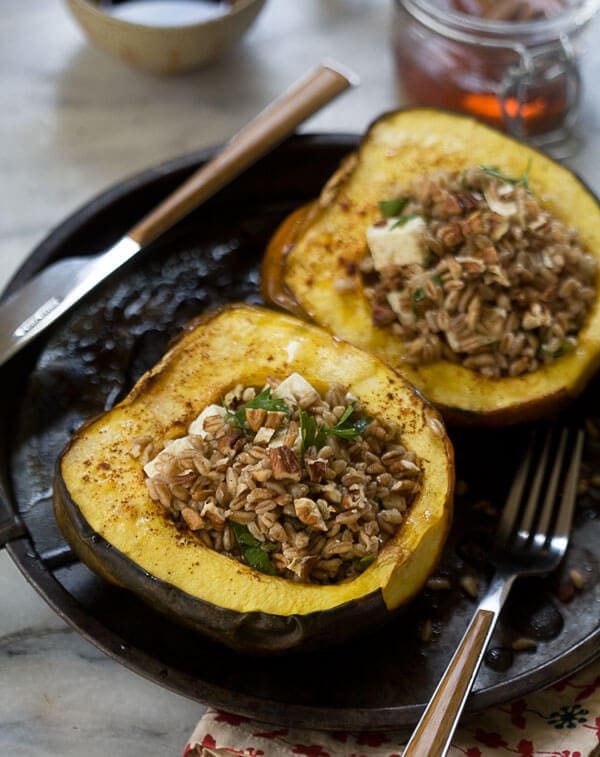 McCormick sent me an email and asked me if I'd be willing to take on their Go4Gourmet challenge of creating a dish with four secret ingredients. I love a challenge and I would consider myself a bit of a competitive person. In third grade I "accidentally" tripped this girl in a derby race. I'm not proud of that moment but I did win. So, I said yes.
When I found out the ingredients (acorn squash, pecans, honey and chipotle chile pepper), I was pumped. In my brain I loved the combination of spicy, smoky, sweet and crunchy and nutty. Perfect combination of flavors. And I knew exactly what I wanted to make. I've been wanting to make acorn squash boats for forever!
The acorn squash gets drizzled with honey, along with a sprinkle of salt and chipotle chile pepper.
Meanwhile the farro is cooked. I cheat and buy the par-cooked farro. It shaves 15 minutes off the cook time and I honestly can't taste the difference.
The dressing is a mix of olive oil, pumpkin oil (my new obsession and totally optional), chipotle chile pepper, lemon juice and salt. I toss the warm farro with the dressing and fold in cubes of feta, Italian parsley, cilantro and honeyed pecans. It's such a pleasant combination of spicy, sweet and nutty. I love it!
(This post is sponsored by McCormick. All opinions are my own. Thank you for supporting the sponsors that keep A Cozy Kitchen cozy.)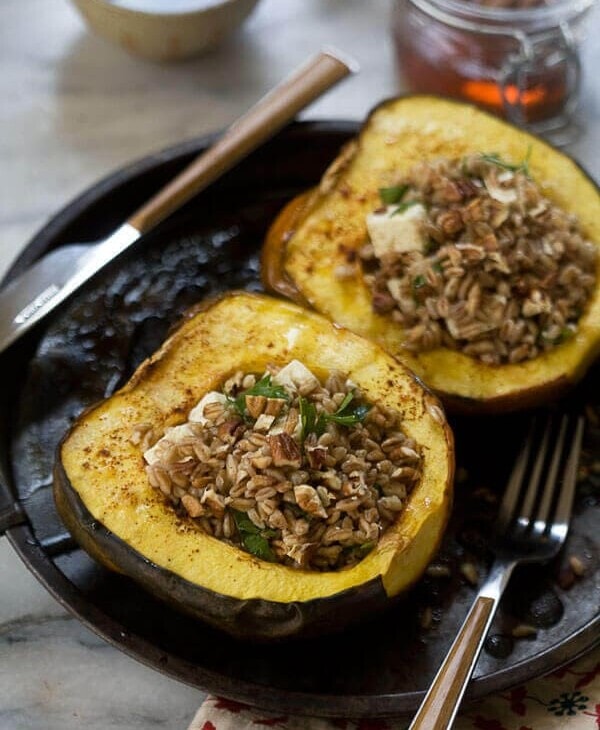 Print Recipe
Acorn Squash Boats with Farro, Honey and Pecans
Ingredients
2

tablespoons

pecans

roughly chopped

Honey

1

acorn squash

deseeded and halved

Olive oil

McCormick Gourmet 's chipotle chile pepper

Salt

*2 tablespoon pumpkin oil

optional

½

lemon

¾

cup

farro

cooked

2

ounces

feta

cubed

Handful of Italian parsley

chopped

Handful of Cilantro

chopped
Instructions
In a small skillet, placed over medium heat, add a tablespoon of honey. When the honey is hot, add the chopped pecans, tossing them in the honey until they're thoroughly coated. Toast them in the pan for 2-3 minutes, moving them occasionally. Remove the pecans from the skillet and set aside to cool.

To a roasting pan, add the acorn squash. (Tip: If the acorn squash aren't standing upright and are a bit too wobbly, you can turn the acorn squash over (face-side down) and slice a bit of the skin off, creating a flat surface.) Sprinkle the squash with a bit of olive oil, a few pinches of chipotle chile pepper and a sprinkling of salt. Transfer to the oven to roast for 20-30 minutes, until the squash are tender when poked with a fork. Remove and set aside.

Meanwhile, in a small bowl, whisk together the ingredients for the dressing: two tablespoons olive oil, pumpkin oil, if using, a dash of chipotle chip pepper, the juice from ½ lemon and a few pinches of salt. Give it a taste, and adjust seasoning according to your liking. Toss the farro with dressing, being sure it's evenly coated. Fold in the cubed feta, Italian parsley, cilantro and honeyed pecans.
*If you don't have pumpkin oil, simply replace the amount with olive oil.