This Homemade Apple Pie is a fall classic. Honey crisp and braeburn apples are combined with flour, sugar and spices. This pie crust is flakey, butter, perfection. This pie is simple, classic; the ideal apple pie.

It's the apple pie version of the perfect white t-shirt we spend years searching for.
This is of course an updated blog post; I wrote a post all this recipe years ago and it was made over and over and I have some new thoughts on execution.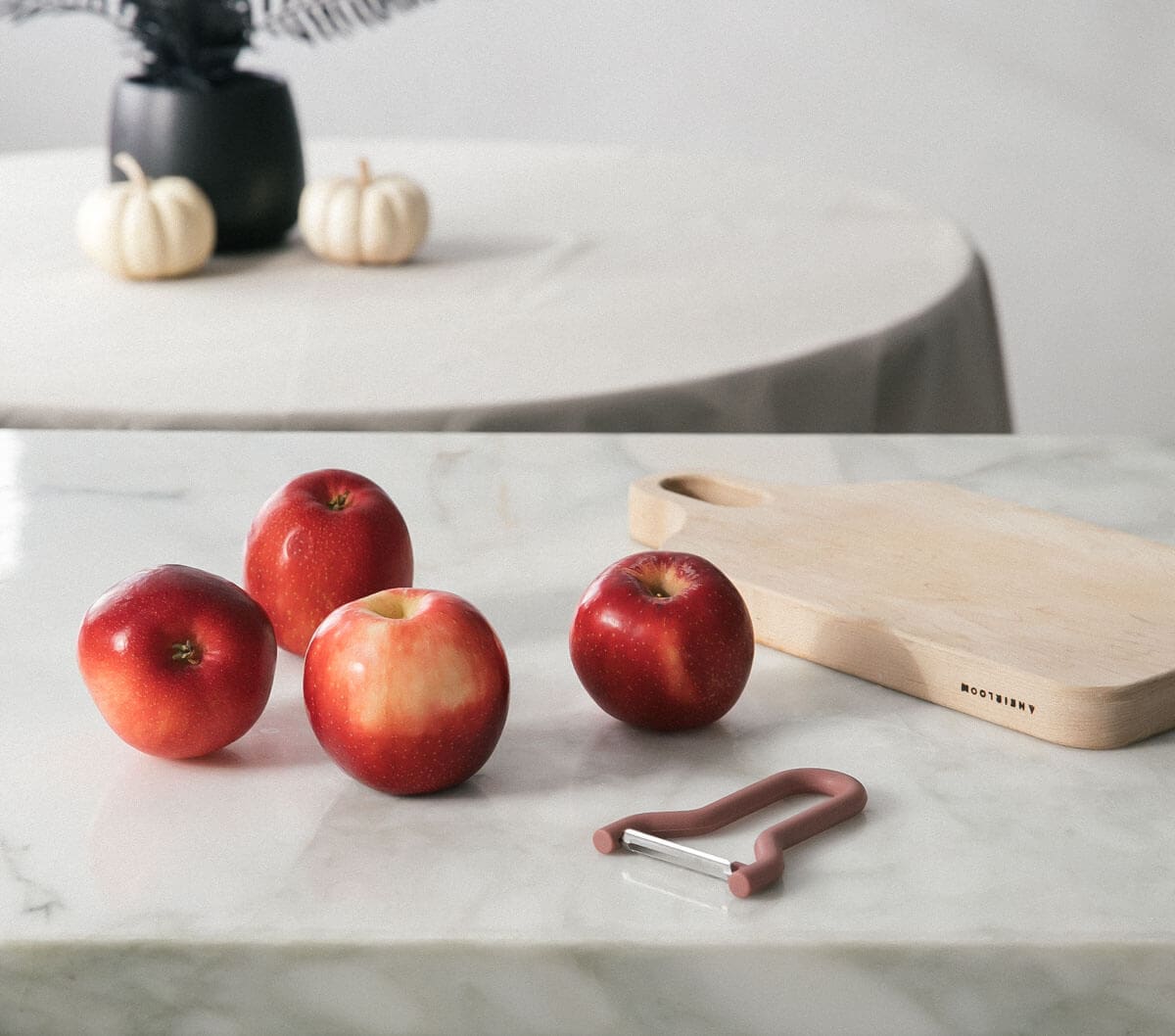 What Are the Best Apples for Apple Pie?
There are apples that are AWFUL and GREAT for apple pie. Some apples are best for eating raw. Others are best for cooking on the stove-top for hours and hours that will give you the most delicious apple sauce. This is not an attack on any apple varietal what-so-ever. I am for all apples. But here are my favorites for pie that will keep their integrity/shape even when baked for an hour:
Honey Crisp: The pie pictured uses ALL honey crisp apples. I don't always do this but honey crisp apples are delicious and if you're going to go with a very simple, one varietal type of pie, I say you can't lose with honey crisp.
Granny Smith: This variety is incredibly tart so definitely use it with that in mind. Granny smith is great to pair with a sweeter more mild apple.
Northern Spy: This type of apple grows in the Northeast of the United States and may be difficult to find in the midwest and on the west coast, but if you do have Northern Spy apples around, use them. They're delicious. They have a cider-like quality to them when cooked.
Golden Delicious: People love to hate on golden delicious apples because they're sort of basic. But if that's all you have in your grocery store, pair them with a granny smith apple. It'll result in a great pie.
Pink Lady: If you're looking for an apple with a great balance of sweet and tart, look no further. Pink lady does a great job at doing this.
Braeburn: A super crisp apple that has notes of spices, pear and nutmeg.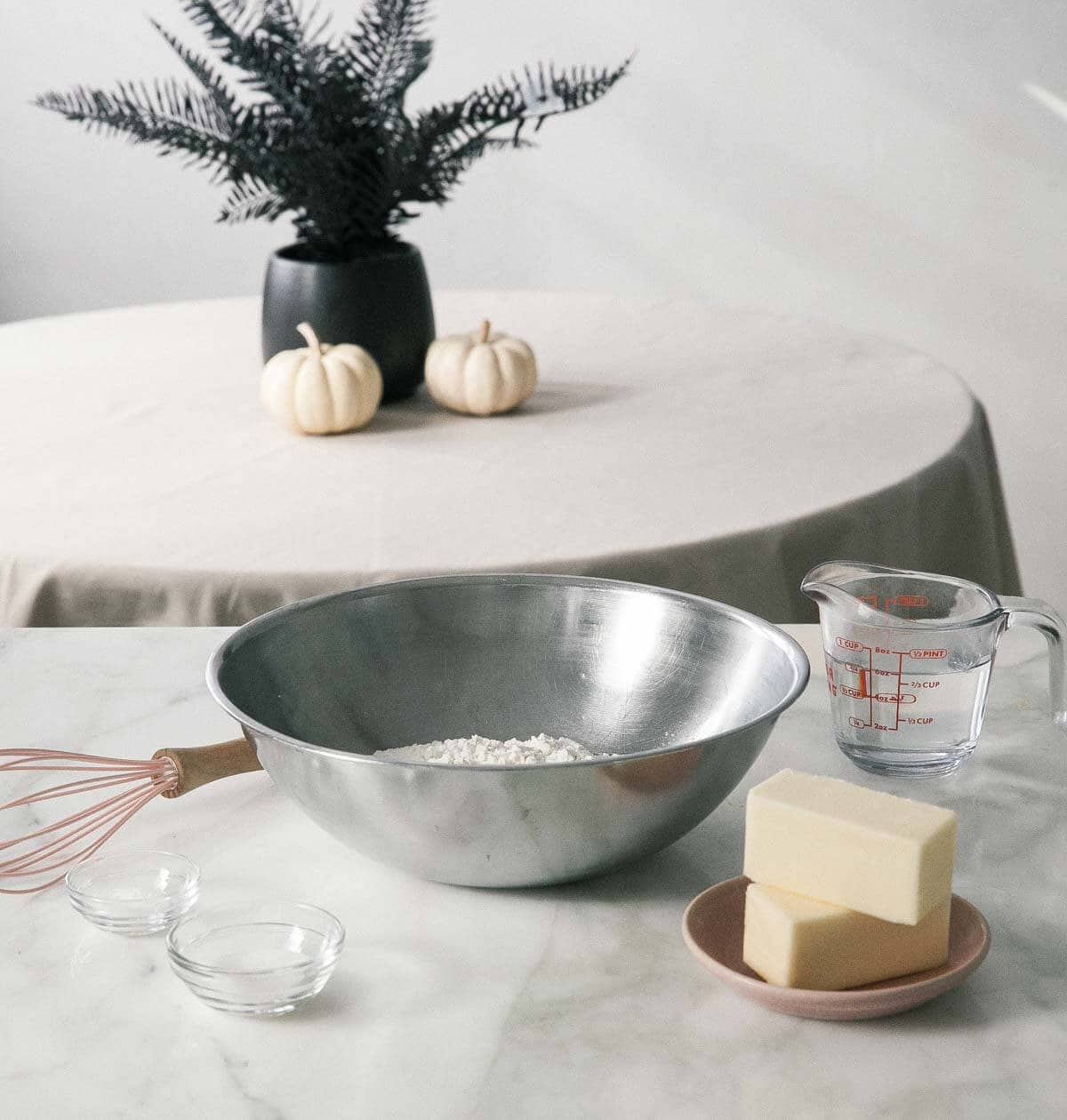 How to Make Pie Crust
I have a full flushed out blog post for that, so definitely go there for a step-by-step. I will say that there is ZERO shame in buying a store-bought pie crust. If you can, look for an all-butter pie crust. All butter is a game changer for me. Nothing tastes better than all butter in a pie crust.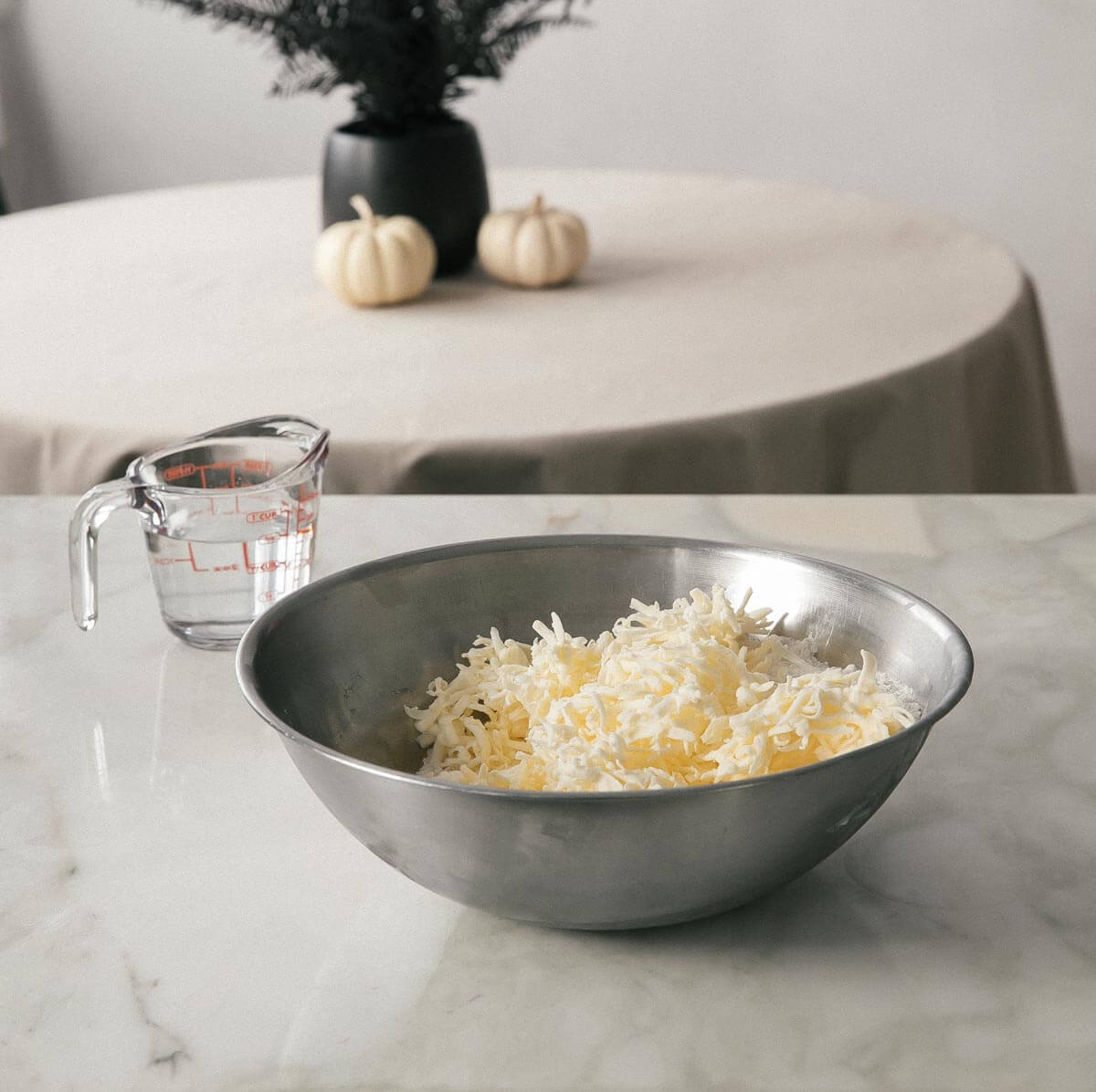 Tips to Making Homemade Pie Dough:
Make sure you have ice cold water
Use your box grater to shred the cold butter
No need to use frozen butter, just use it straight from the fridge
Chill the butter as it sits on top of the flour in the freezer
It'll be super easy to break it up and mix it throughout the flour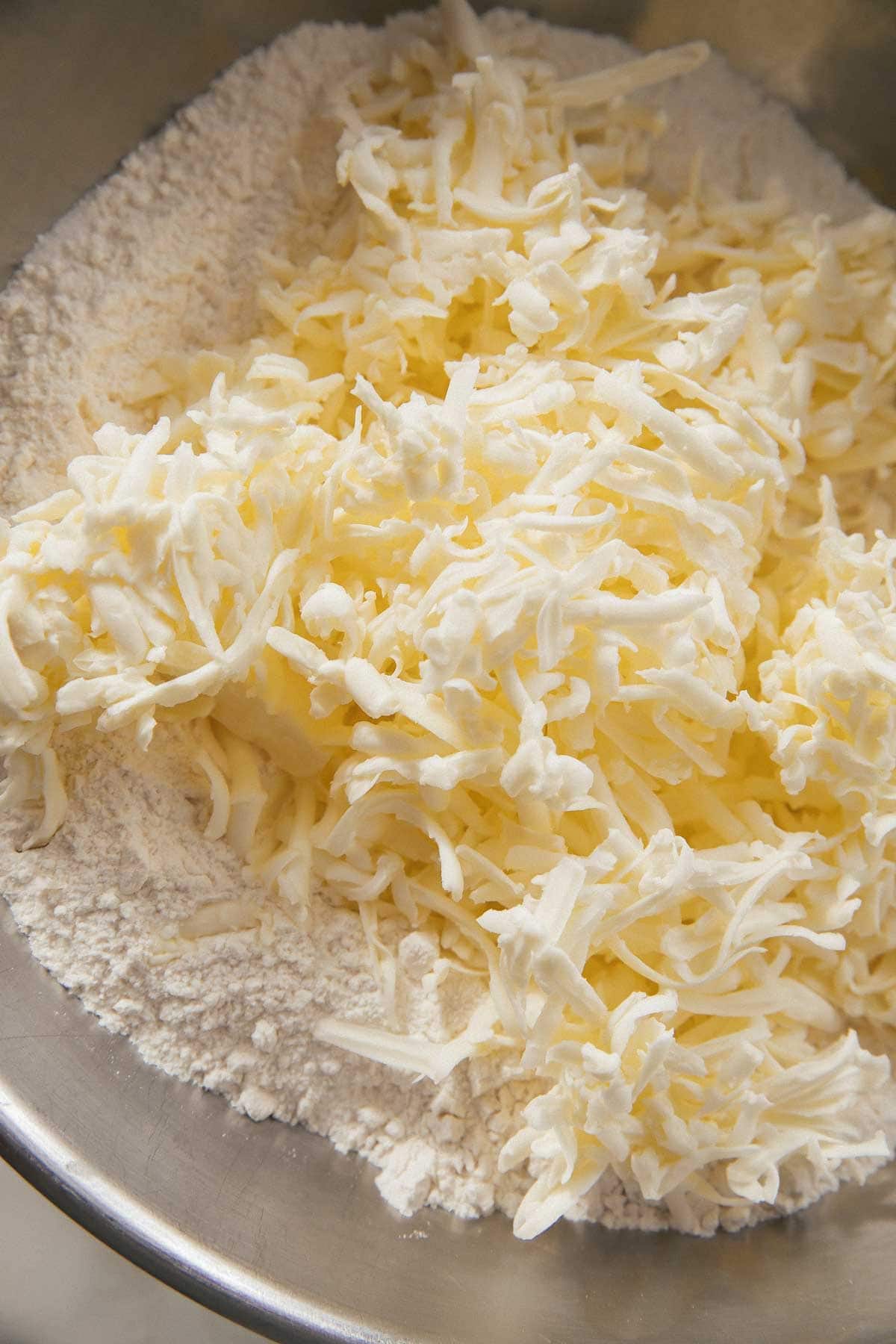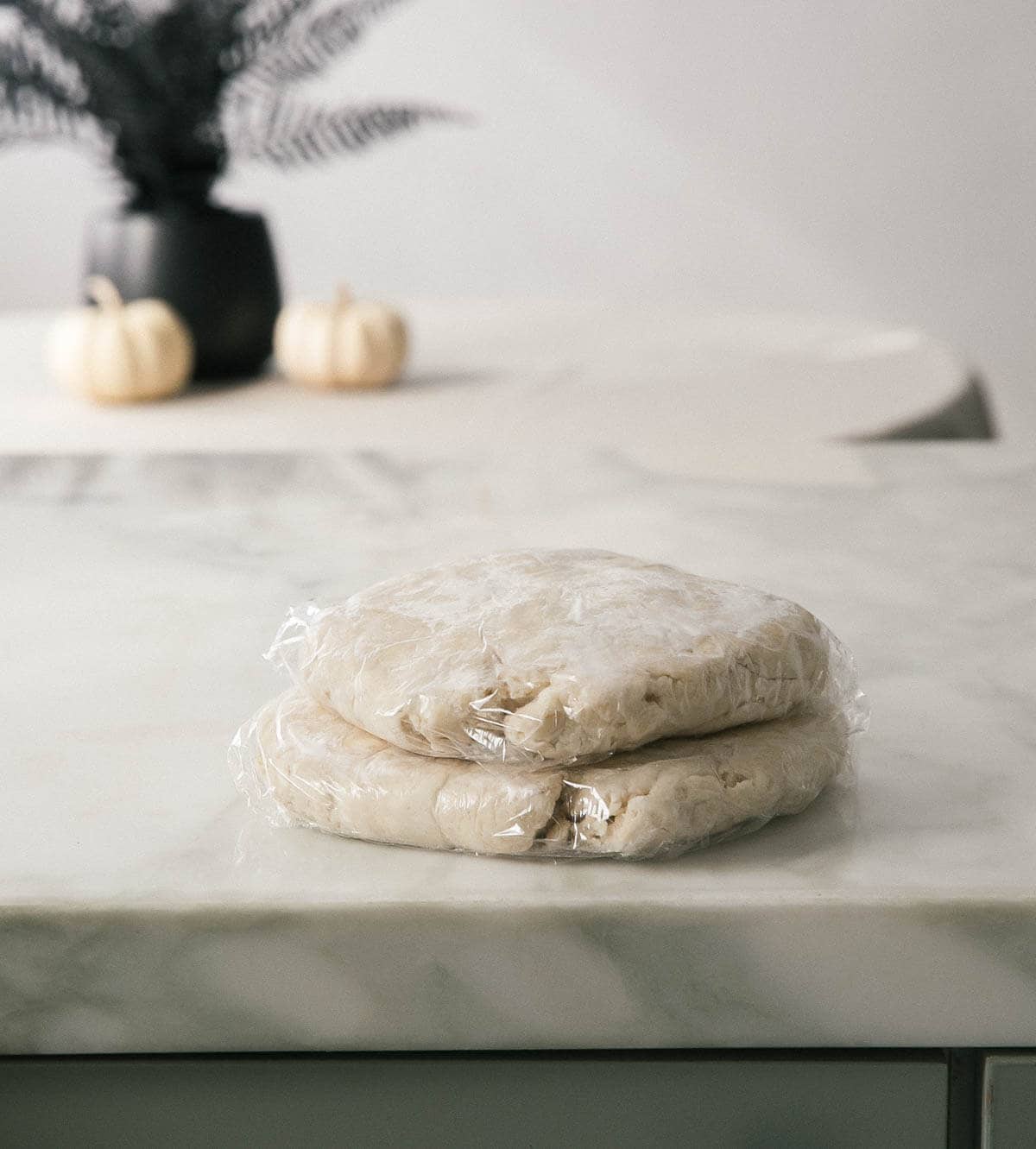 Best Vessel to Bake a Homemade Apple Pie In
I will always be a fan of these glass Pyrex pie dishes. They bake up an incredibly even pie. The bottom is never soggy and gross. And I love that you can see through the sides and bottom to check on the pie's doneness and color. The perfect pie plate!
Another thing I love about these Pyrex pie dishes is that they're incredibly affordable. But I am not at all against vintage pie tins. Just keep in mind that they're usually smaller so you may end up with extra filling and pie crust.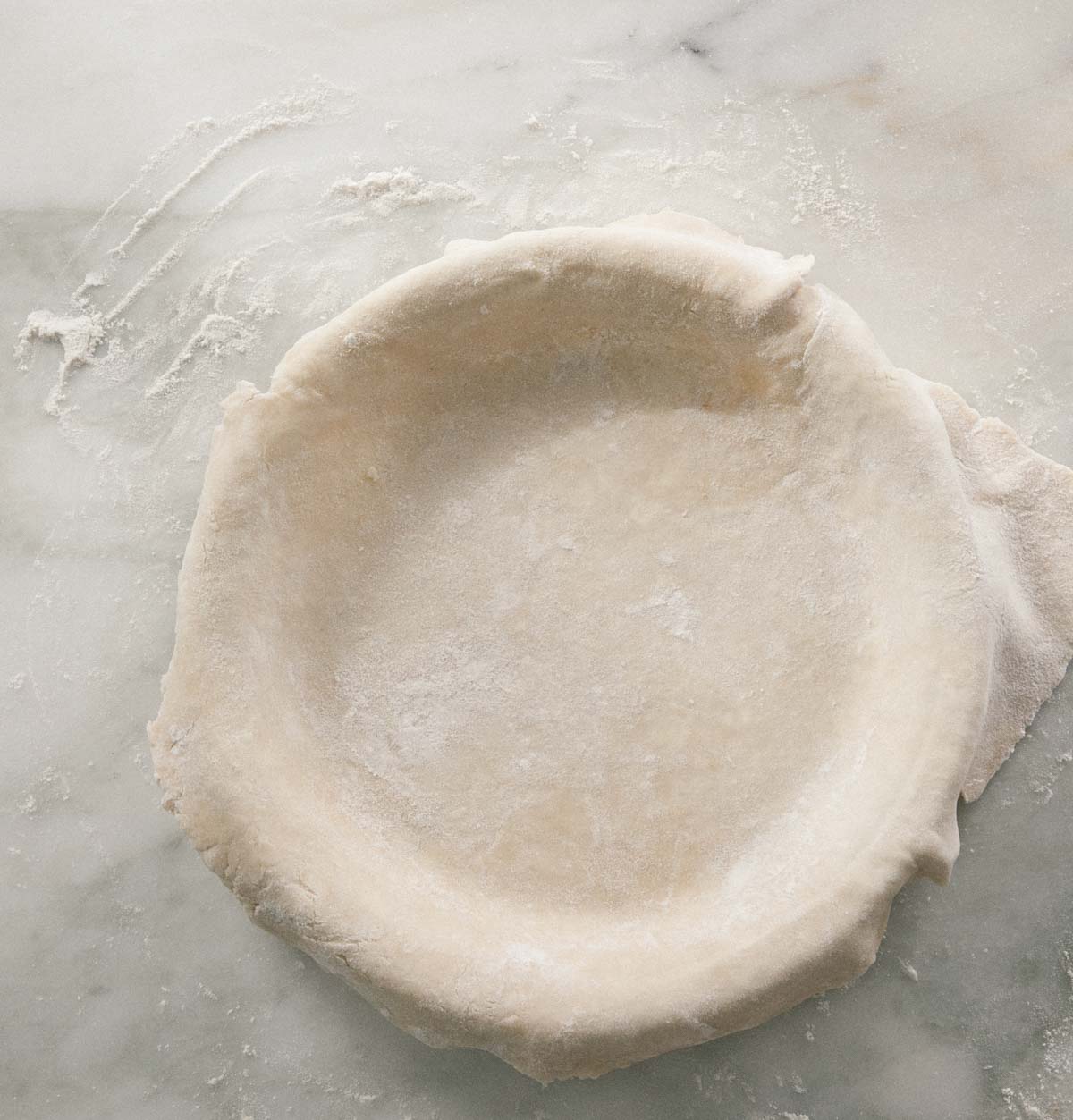 How to Make Apple Pie Filling for the Best Homemade Apple Pie
Filling is supposed to be simple. I like to add a few extra things to make it extra special, but here is usually what it should consist of:
Apples: I like to peel the apples and to slice them thinly. Extra points if you use a mandolin.
Thickener: For berry pies, corn starch or tapioca starch is needed because berries very juicy. But with apples, they don't release a ton of juices so I add a few tablespoons of all-purpose flour. I find that corn starch or tapioca starch makes it a bit too gummy for me.
Acid: I like to use fresh lemon juice. It adds a lovely tartness.
Sweetener: For this pie, I add all brown sugar. I love the molasses, caramel notes it provides. But feel free to use cane sugar, maple syrup or honey.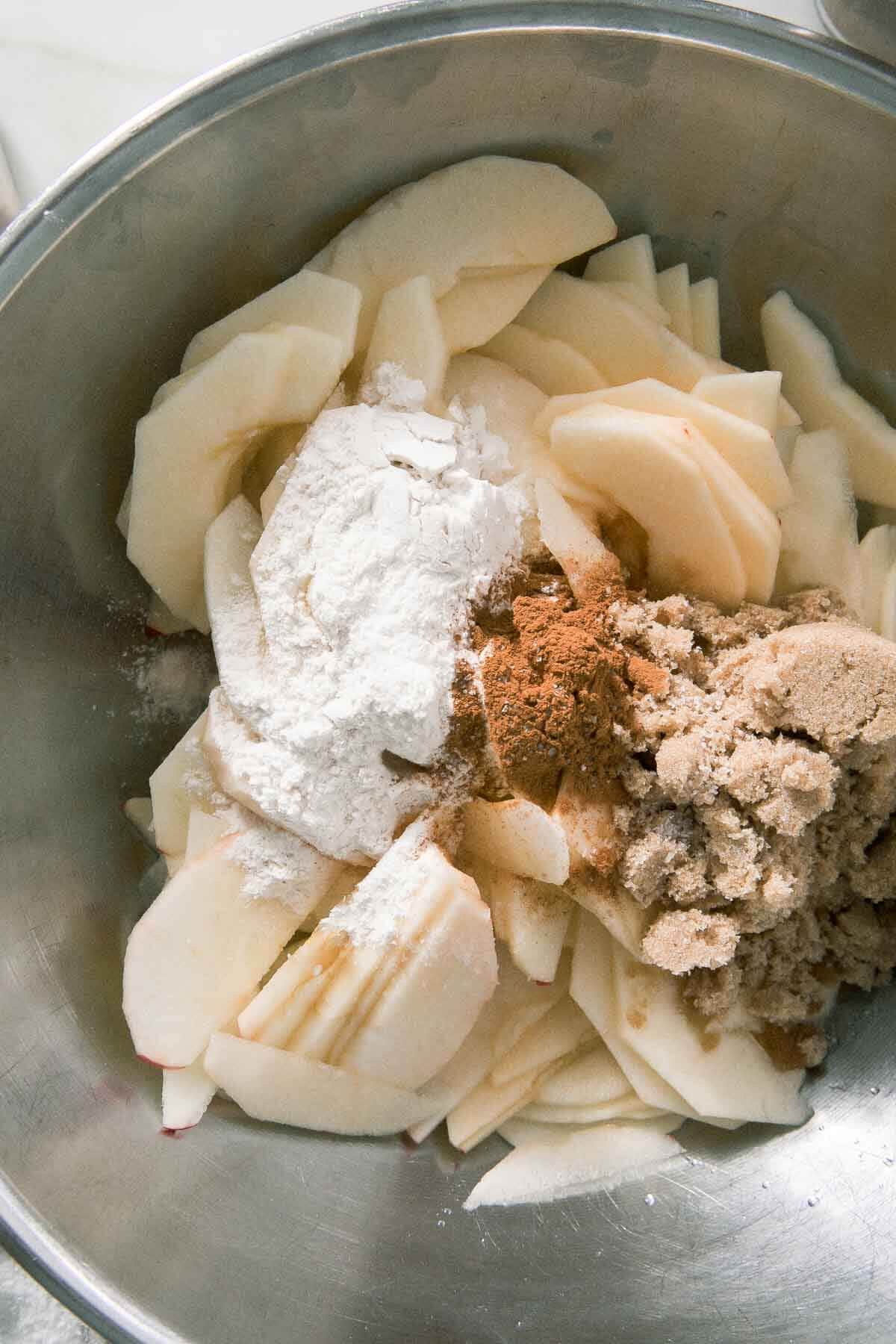 Additions to Filling
I like to add a few other things to my filling. I love adding a dollop of creme fraiche or sour cream. This creates a caramel when the apples and brown sugar are all cooked together. It's glorious. It transforms any normal apple pie into a caramel apple pie and it is SO delicious. I also love adding a bit of vanilla paste. It feels indulgent and what better place to put some vanilla.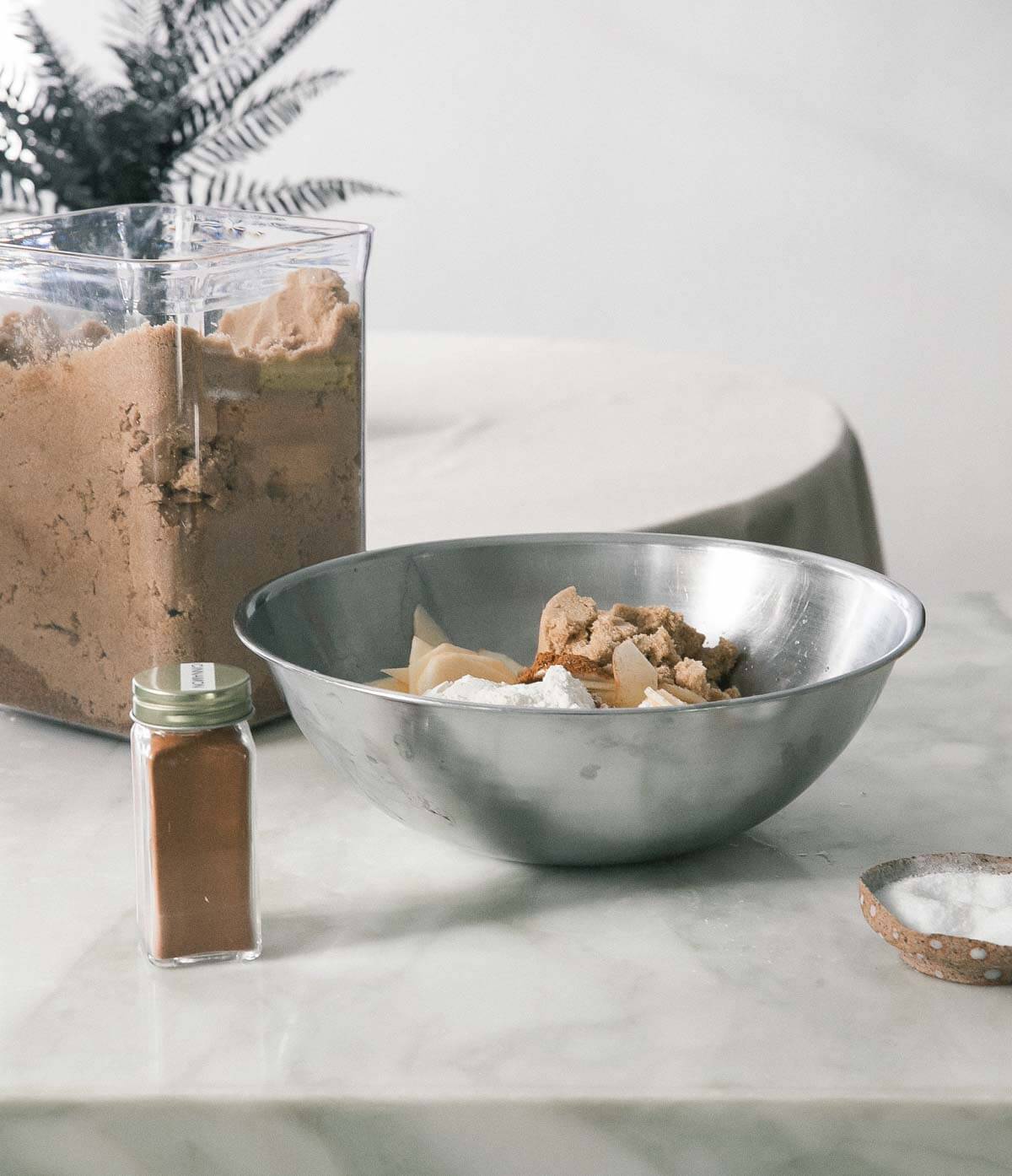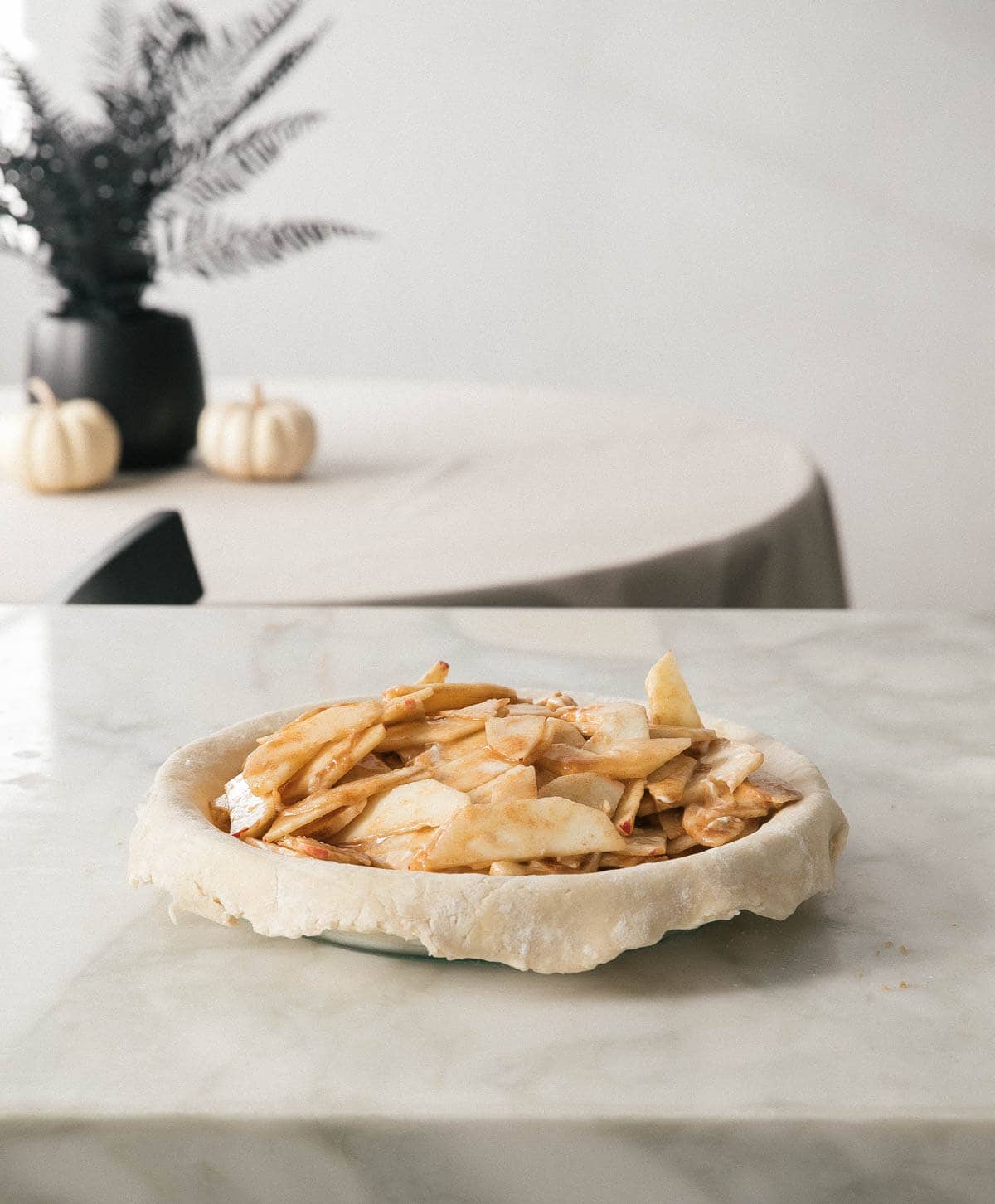 How to Bake an Apple Pie
In my honest opinion, people under bake their pies. Apple pie should not be pale golden brown. It should be deep, golden brown. When the pie bubbles, it means the thickener (in this case all-purpose flour) has been activated. If you're using a glass vessel (like I suggested above), it will take a bit longer than if you're baking it in a tin baking dish.
I like to bake my pie for an hour MINIMUM. I check on it regularly.
If any part of the pie crust begins to burn or get a bit too dark, you can cover that part with a sheet of foil.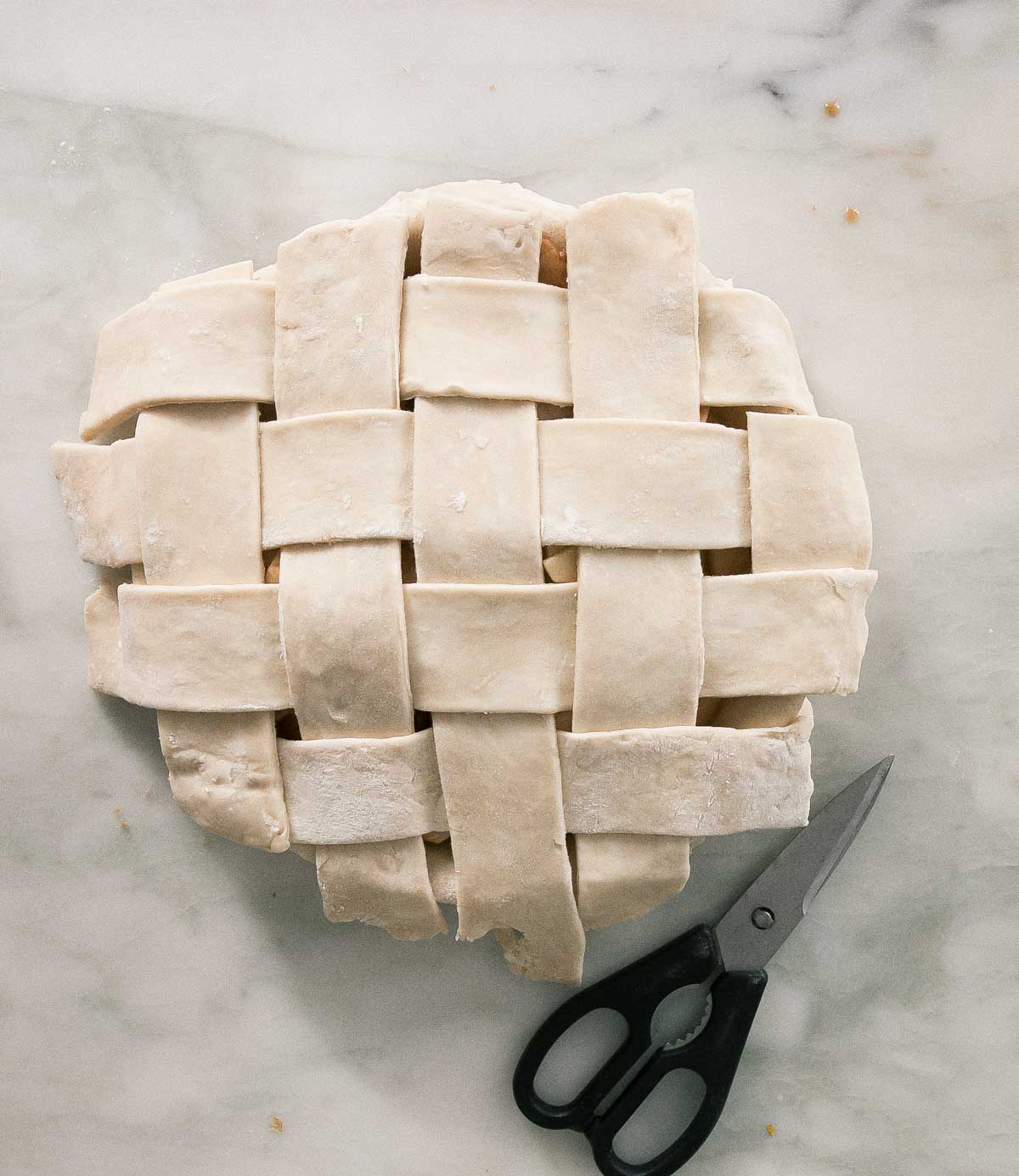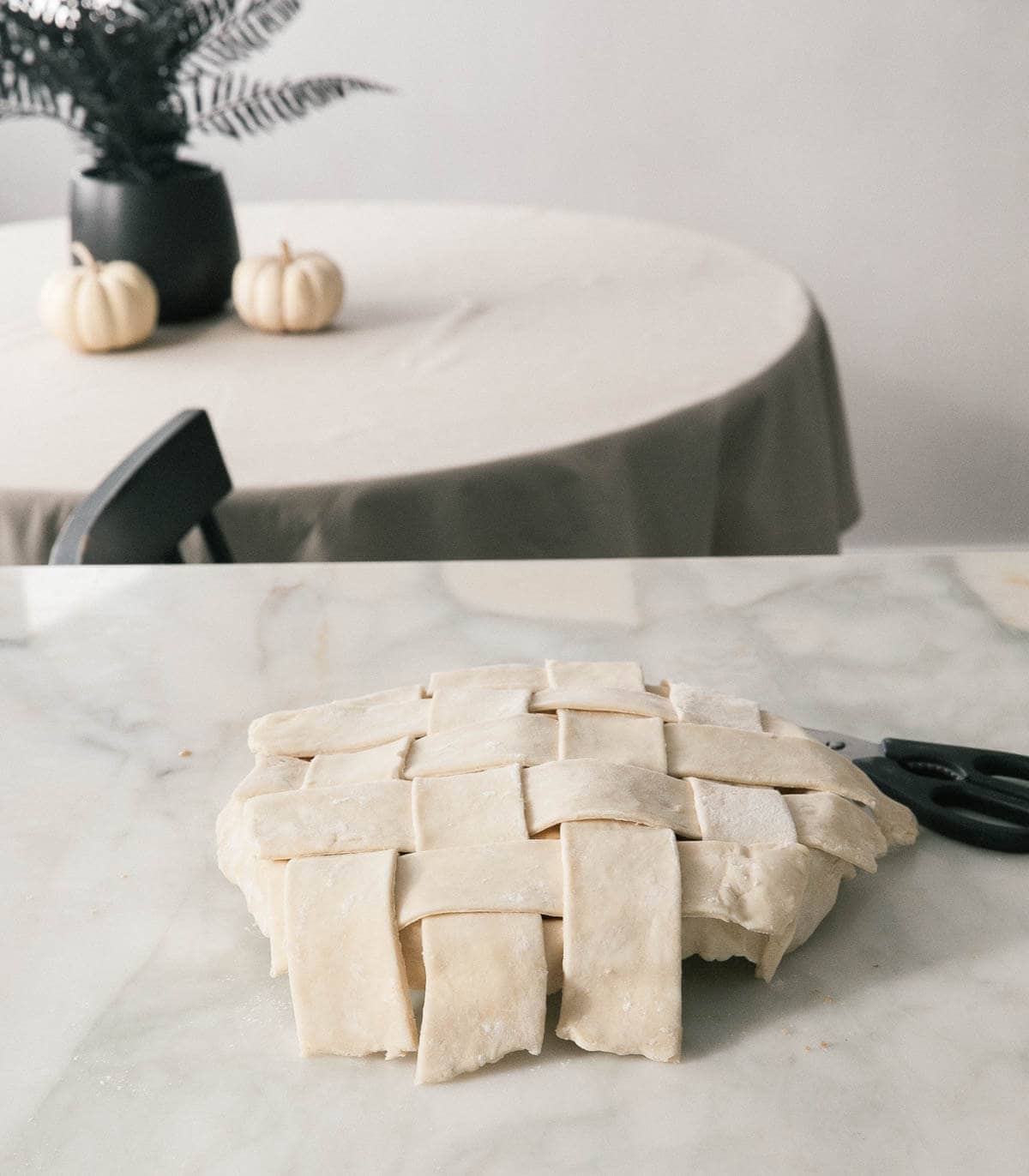 Tips and Tricks for our Apple Pie Recipe
Use a good pie crust recipe (cough, cough). A delicious crust recipe should have a healthy amount of salt in it. Yes, you want the balance of salty and sweet in your top crust.
Bake the pie until bubbling and a deep golden brown. You don't want to overcook your pie (aka burn it) but you do want the crust golden brown. This also ensures that the bottom crust is fully cooked.
Should I Cook the Apples Before Baking
This is a personal decision. Lol. I personally don't want to do ANOTHER step so I avoid it. But I will say that apples will cook down a bit and if you cook them prior to baking, you do keep A LOT of the same volume. I also love that the apples have texture to them. When you cook them prior to baking the pie, you literally end up with zero apple texture.
How to Avoid a Soggy Pie
I think this has a lot to do with the length of baking time. A lot of people don't bake their pie enough. The pie should be bubbling (this indicates that the flour has been activated and the pie filling will be thickening) and the crust should be a deep golden brown.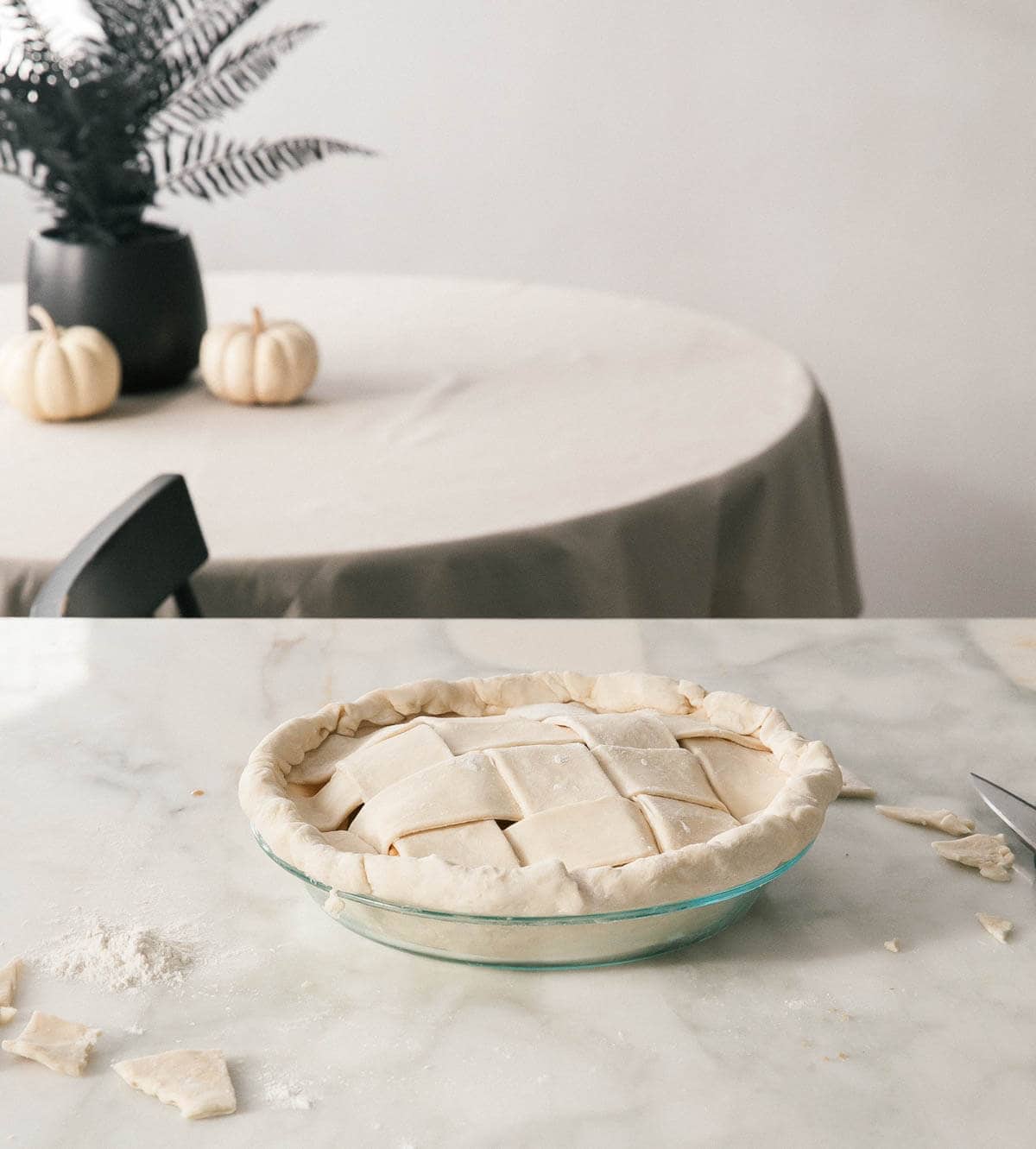 How to Make An Apple Pie Ahead
Let's throw out a scenario: You have a Friendsgiving or autumnal get together and you are working all week long and know you won't have time to make it the day of. Not a problem. Up to two weeks prior, make the crust, make the filling, assemble the entire pie and then FREEZE IT whole.
Yes, freeze the entire pie. In its dish and everything. If it's for longer than a night, then I cover it with plastic wrap after it's mostly frozen.
Then, brush it with egg wash, sprinkle it with turbinado sugar and then bake it frozen. It will take about 15 minutes longer but it will turn out gloriously.
I also love freezing my pies first because it ensures that the pie crust doesn't shrink.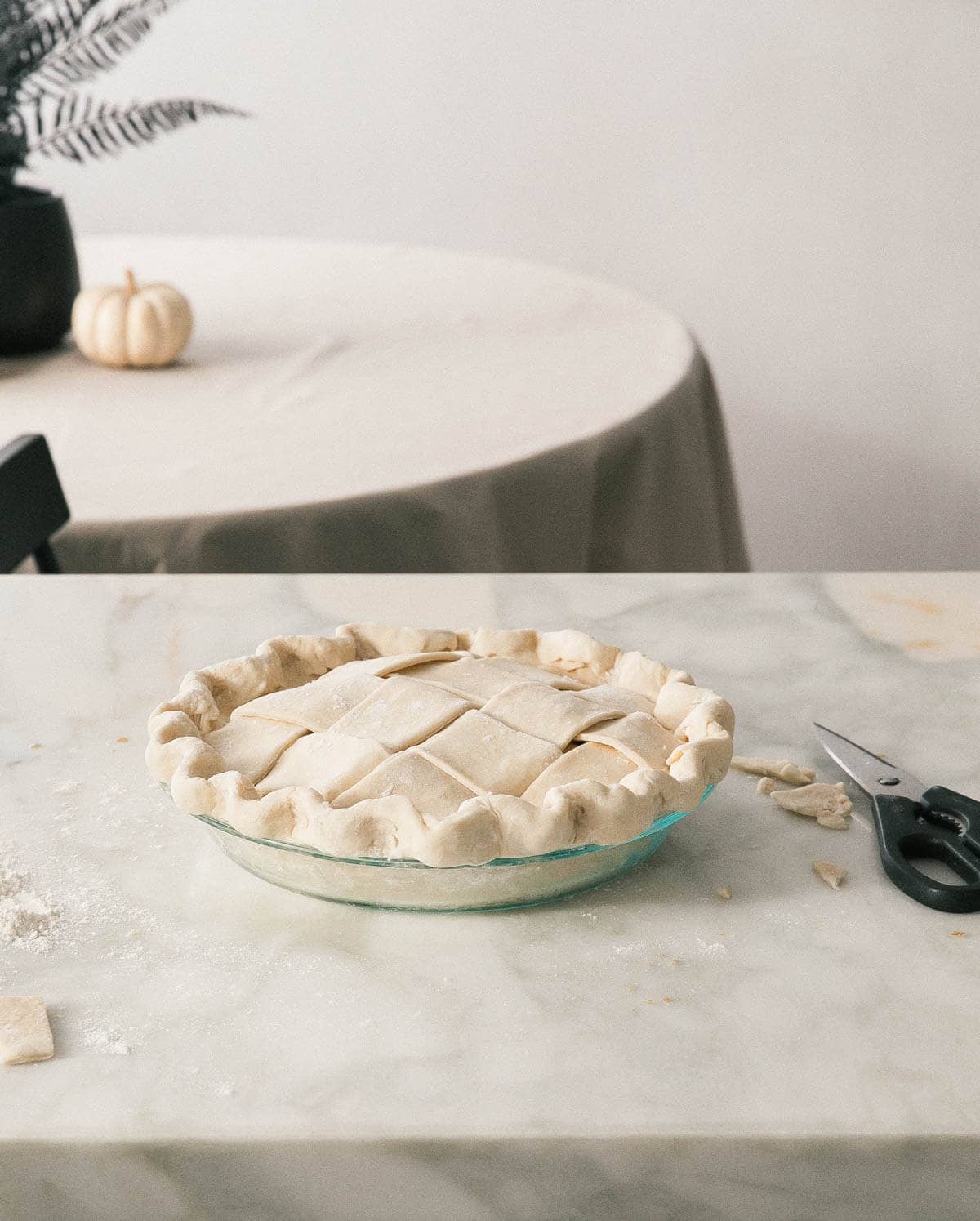 Cutting and Slicing an Apple Pie
I will never tell you what to do lol. But if you want your apple pie to be a cohesive, beautiful, Instagram-worthy slice of apple pie, you have to wait a few hours. Two at the very least.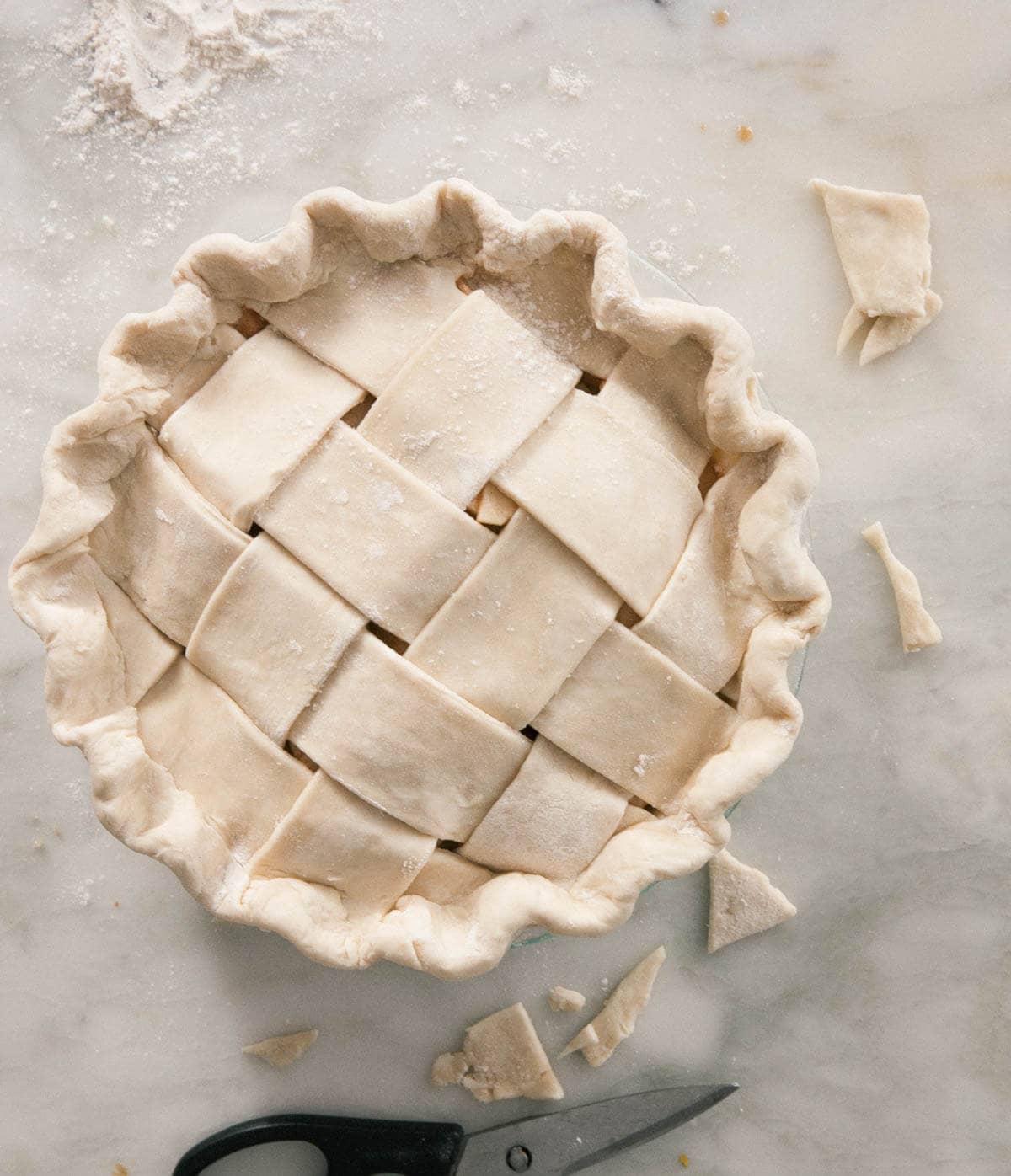 I know it's hard but it will allow the pie to set and make it sliceable. Now, if you want a warm apple pie with cold ice cream, then slice it up. Just know that it might make a bit of a mess. But is that really a bad thing? Nahhh.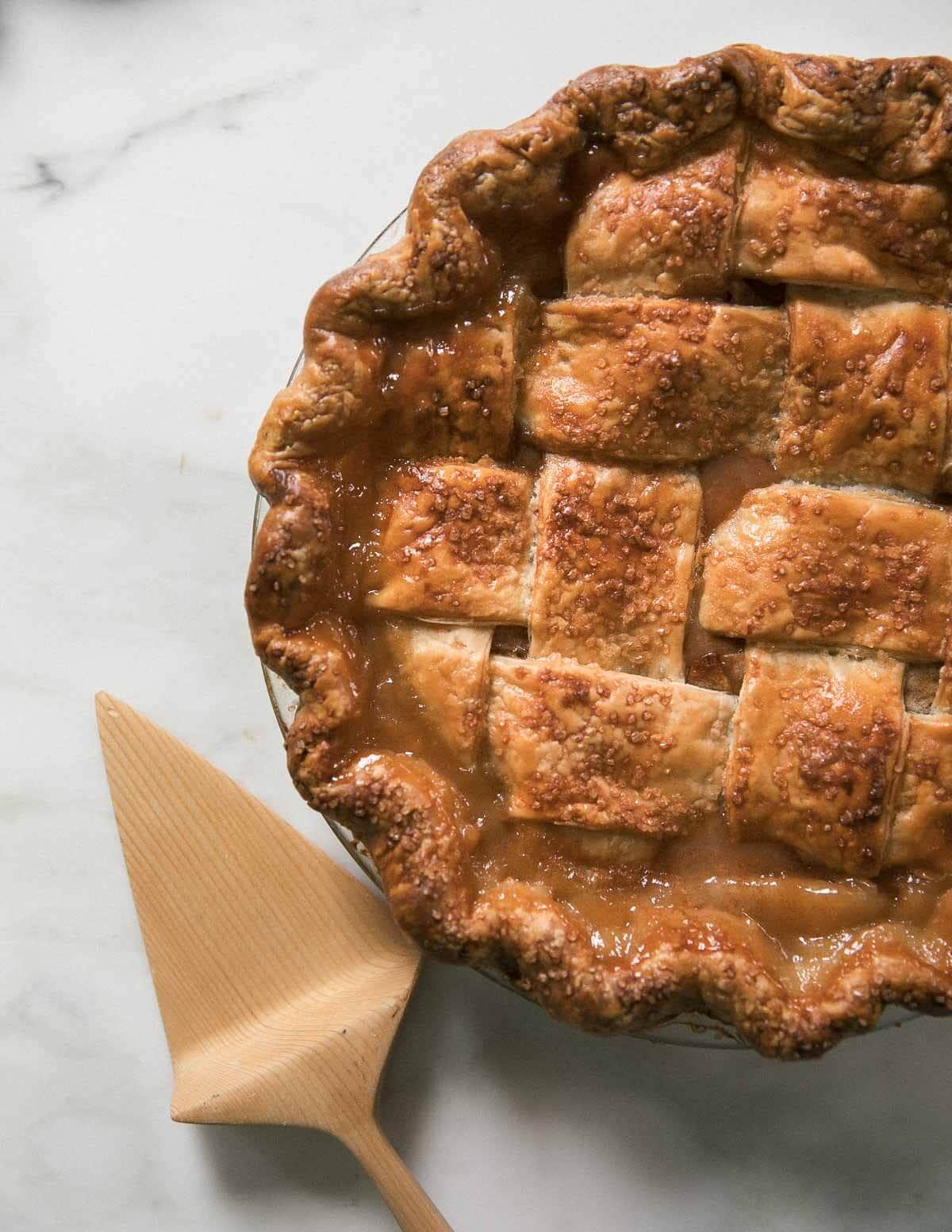 If you end up making this Homemade Apple Pie, lemme know on the Instagram!
Looking for more recipes like this Homemade Apple Pie? Here are some other favorites: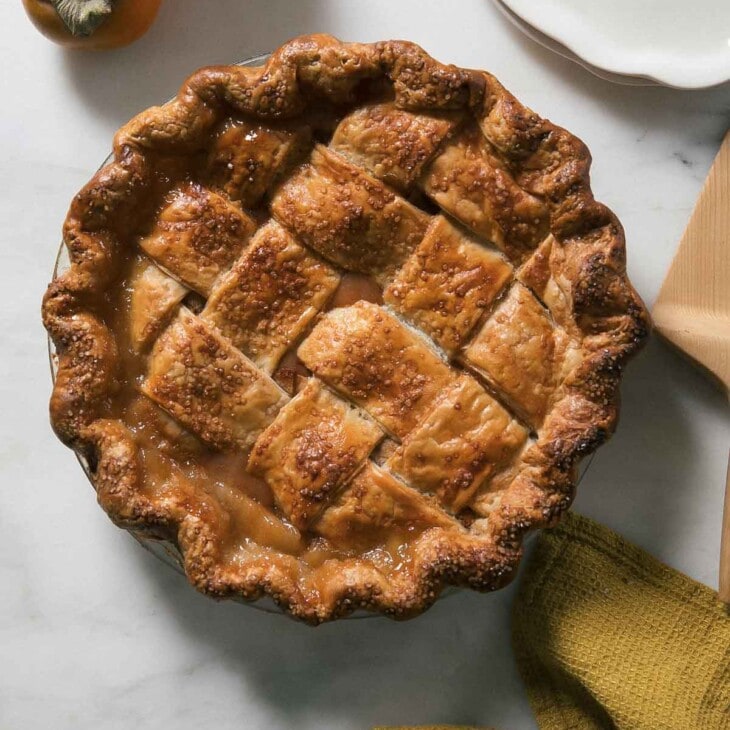 Print Recipe
Classic Apple Pie Recipe
This Homemade Apple Pie is a fall classic. Honey crisp and braeburn apples are combined with flour, sugar and spices. This pie crust is flakey, butter, perfection. This pie is simple, classic; the ideal apple pie. 
Serving Size:
(9-inch) pie
Ingredients
Double Pie Crust:
2 1/2

cups

all-purpose flour

2

tablespoons

white granulated sugar

1 1/2

teaspoons

kosher salt

1

cup

unsalted butter

cold and straight from the fridge

3/4

cups

very cold water

divided
Apple Pie Filling:
1/2

small

lemon

juiced (about 1 1/2 tablespoons)

3-4

whole

medium to large apples (pink lady, gala and honeycrisp are my favorites)

peeled, halved, cored and thinly sliced

1/4

cup

all-purpose flour

1/2

cup

light brown sugar

1 1/2

teaspoons

ground cinnamon

1

teaspoon

pure vanilla extract or 1/2 teaspoon vanilla paste

1/2

teaspoon

kosher salt

2

tablespoons

crème fraîche or sour cream

1

large

egg

beaten (for egg wash)

1

tablespoon

turbinado sugar

for topping (optional)
Instructions
To Make the Pie Crust:
In a large bowl, mix together the flour, sugar and salt. Using a box grater, grate the cold butter atop the flour mixture. Transfer to the freezer to chill for 10 minutes. Working quickly, and using your hands, break the butter bits into the flour until they're evenly distributed and resemble the size of teeny, small peas. Add a 50% of the recommended water and mix.


The mixture will be shaggy at this point. From here, add 1 tablespoon of water at a time until the dough comes together. Flour your counter and dump the dough onto it. Knead a few times more until it comes together into one cohesive mass.


Divide the dough, forming two discs. Wrap the discs in plastic wrap and transfer to the refrigerator to chill for at least 1 hour, ideally overnight.
To Make the Apple Pie Filling:
You're welcome to peel your apples. This is optional. I personally like to peel the apples. Halve the apples, remove the core and then slice the apples into thin 1/4-inch pieces. OR, you can use a mandolin and slice them very thinly. Add the apple slices to a large bowl. Squeeze in the lemon juice, being sure to catch any seeds.

Next, add the flour, brown sugar, cinnamon, vanilla extract and salt; toss until the apples are evenly coated.

Add the crème fraîche and toss until it's evenly distributed throughout.
To Assemble the Apple Pie:
Remove the first disc of dough from the refrigerator and allow to come to room temperature for about 5 minutes. Liberally flour your work surface and rolling pin. Begin to roll the dough, being sure to rotate it every so often to avoid sticking, to a 13-inch round. Wrap the dough around the rolling pin and unroll it over the pie dish. 

Gently fit the dough into the bottom and up the sides of the pie tin. Trim the dough around the pie tin, leaving about a 1/2-inch overhang. Recombine the scraps and set them aside. We'll use them for the lattice. Transfer the pie shell to the refrigerator while you roll out the second disc.

Remove the second disc from the fridge and repeat the rolling process. Using a knife, cut the dough into 3-inch strips. 


I cut as many 3-inch strips as I can. Reroll the scraps you have set aside, too, you'll need all of the pie dough. (If at any time your pie dough becomes too soft, transfer to a cutting board and put in the fridge to chill so it's easier to work with.) Fill your pie shell with the apple filling. Lay out 5 strips of pie dough on top of the filling, leaving about 1/2-inch of space in between them. Lay the remainder of your strips running perpendicular. This will give you a good idea of how it will go. Next, fold back every strip. Start one at the top, running horizontally. and weave it under and over, rotating, each strip running vertically. Repeat this process until you've worked your way through every strip. If my directions are confusing, go to Youtube. The videos on there are super easy to follow. Much easier than written instructions! 

Trim the edges of the strips, being sure to leave about 1-inch overhand. Going all the way around, tuck the edges under. To make a pronounced crimp, like you see pictured, set your thumb on the outside edge of the crust. With your opposite pointer and thumb fingers, create a v, and push the two together. Repeat this process all the way around the pie crust. 

Transfer to the freezer to chill for 30 minutes. Meanwhile, preheat the oven to 400 degrees F. Brush the entire pie, liberally, with egg wash and sprinkle with turbinado sugar.

Transfer the pie to a baking sheet and place in the oven to for 20 to 25 minutes, until the edges are just lightly brown. Turn the heat down to 350 degrees F and bake for another 40 to 45 minutes, until the edges and top are deep golden brown. Be sure to check on it intermittently, if at any time the pie crust begins to turn too dark, use foil to cover those areas to stop browning. Allow to stand for at least two hours so it can firm up before slicing the pie. 

Serve with ice cream or a dollop of whipped cream.
Notes
To make the pie dough ahead:
You can make your pie dough ahead of time and freeze it for up to 3 months.
To make the pie ahead:
You can assemble this entire pie and stick it in the freezer overnight and then bake it off the next day. It'll work very well. 
To store a baked pie: 
Cover lightly with a clean kitchen towel and store on the kitchen counter. I find that the fridge makes the dough soggy because of the moisture. 
Equipment:
Pyrex Pie Dish | Stainless Steel Bowls | Liquid Measuring Cup | French Rolling Pin | Box Grater
Equipment
1 (9-inch) glass or stainless steel pie dish
Nutrition
Serving:
8
g
|
Calories:
298
kcal
(15%)